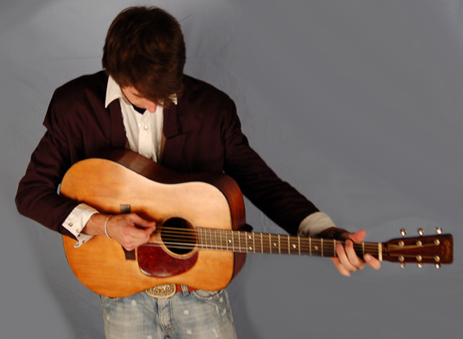 In a world where real Country Music has seem to have lost it's roots, comes a young man that seems to have transcended time and is not afraid to keep the real traditions of Country Music alive. Tyler Shayne may be young in age but his music and style is reminiscent of his heroes, the early Country Music pioneers, Hank Williams, Jimmie Rogers, Johnnie and Jack, and Ernest Tubb. His self penned tunes you would swear were songs written back in the Fifties and Sixties. Born and raised on the farm in Pleasant View, TN, he got his first taste of Country with two CD's from his granddad, Hank Williams and the Outlaws Waylon and Willie, thus beginning his love and trail in Country Music. At the age of 11, his grandmother from his other side of the family, bought him a cheap guitar in a pawn shop in Madison, TN along with a couple Hank Willliams and Johnny Cash song books. He began learning the basics and foundation of the guitar from a church member, George Ruiz. He continued to practice to Hank Williams, trying to sound and play just like him. Tyler wrote his first song at the age of 13 "the Dog Gone Blues" and played on a stage first time publically at a Republican benefit at his grandparents house. Tyler furthered his guitar style from Gary Adams, a fellow who could play anything with strings. He picked up his bluegrass side and licks from Gary but always considered himself country. Continuing to write, play and sing were ever he could, with whomever, whenever he could all through high school focusing on music over his studies.
At a local breakfast jam, Tyler ran into a Junction Entertainment representative by the name of Buddy Riley. Buddy liked Tyler's style and introduced him to John Sturdivant Jr. who also took an interest in Tyler. Tyler started writing and recording with Jr. and not having work together long things clicked easily, working on songs, his singing, and guitar playing. Eventually, the pair not only became music partners but close friends. Tyler was recently signed to Junction Records and currently working on his debut CD release.
Tyler Shayne is as unique as his music and if you love pure Country Music and thought that it was gone by the wayside, Tyler is here to prove it is alive and well. He will surely surprise anyone thinking they don't write them like they use to. He is proud to bring true Country Music to the old fans as well as turning on a new generation to the real sound of Country Music.